SPOKES VOL. LXVIII NO. 2 July 13, 2021
http://www.southhavenrotary.org
President Bill Roberts called his first regular meeting to order with the Pledge of Allegiance. Pastor Jeffrey Dick followed that with what we assume was another of his meaningful invocations, although because of technical difficulties we were unable to hear it.
Our guest this morning included prospective member John Mellein and our speaker Erika Morrison.
Announcements:
We will be working with the Kiwanis Club to put on a Pancake Breakfast during Blueberry Festival on August 14 and 15. A sign-up list is available and we are especially looking for help for the afternoon shifts both days. Contact Rosalie Plachaty.

Our August 7th meeting will take place as a tour and picnic at the Portman Preserve near Paw Paw. Tours will begin at 2:00 and a picnic at 4:00. Save the Date!

We are still looking for a Public Affairs Coordinator.

Our transition back to in-person meetings is underway. We are sorting out technology issues so we can continue to offer both streaming and in-person experiences to both our members and speakers.
Comedy Relief
In the absence of Bob Copping, President Roberts presented a story of two blind men, their dogs and a bar.
50/50 and Fines
Mike Livovich is celebrating a Birthday this week.
Jerry Gruber paid a fine to welcome his granddaughter Emily into our club. WELCOME EMILY!
Korky Ingersol is celebrating his daughter's birthday.
Larry Wittkop and his lovely wife Barb are celebrating their 57th anniversary this week.
Tom Renner has two celebrations: He and his lovely wife Carole will be married 56 years on Saturday and Carole will celebrate her birthday on Sunday.
The celebrants were saluted with a birthday song (not Tiny Tim) provided by the resourceful Larry Wittkop.
Our guest Erika Morrison drew Mary Sue Lyons' number for the big prize and Pete Swanson's for the smaller award.
Our speaker this morning was introduced Bob Straits. Erika Morrison is the Director of We Care in the Name of Christ, Inc. after serving that organization for a number of years.
It has been a crazy 18 months at We Care. They have worked very hard to live up to their mission: "Serve All of Our Neighbors". And their motto: "Because We Care"
We Care, which was organized in 1982 as a centralized resource for organizations that provide help to those in need. They now have 25 employees that are manned by three paid staff, only one full time, and many, many of volunteers.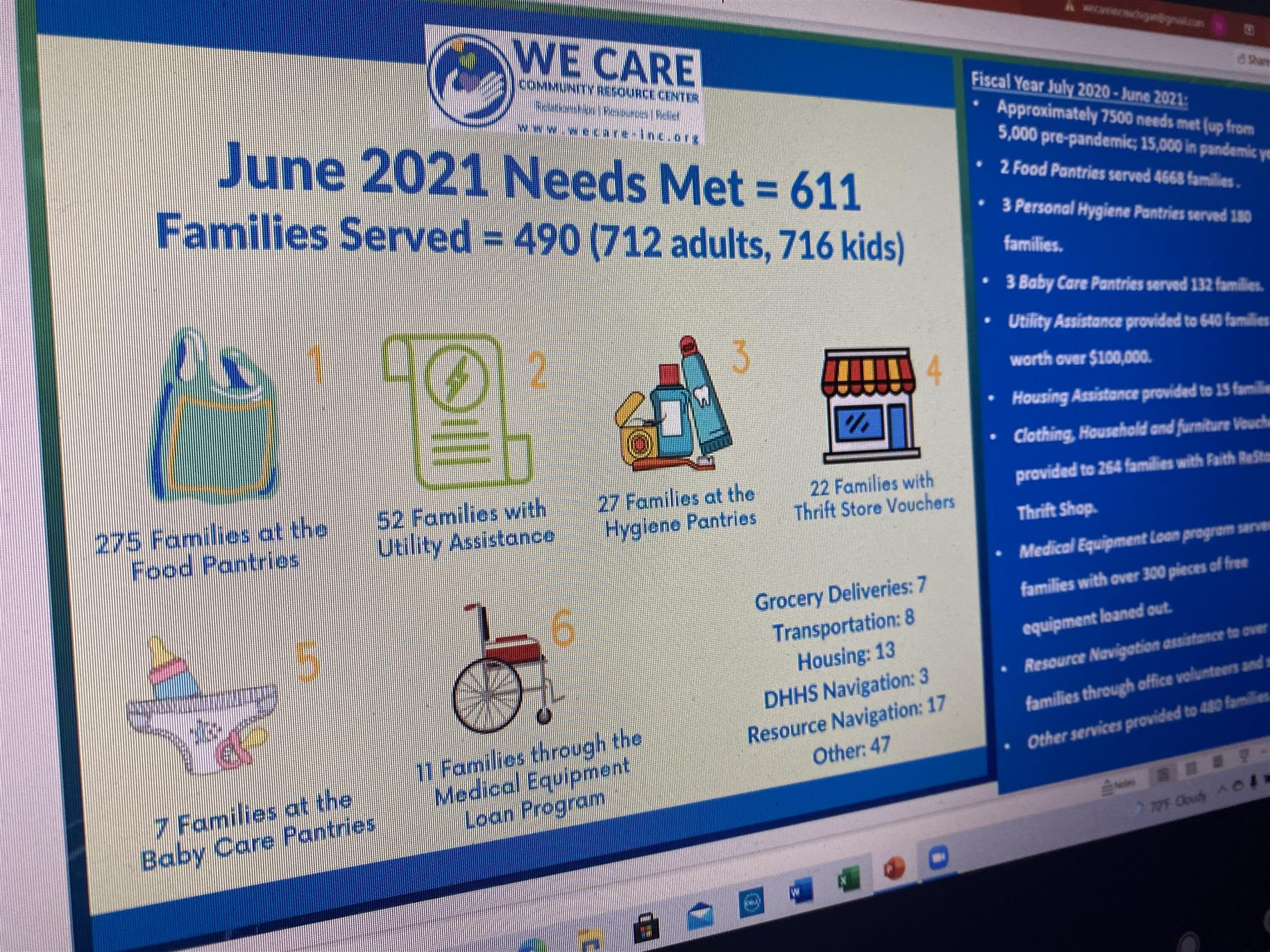 They typically serve around 5,000 people but during the pandemic that number shot up to 15,000 clients and still is high, at around 7500 clients at the current time.
They have new offices, in the former Canonie building at the corner of Blue Star Highway and M-43. They also have an office in Bangor.
Their pantries include two food pantries, personal care pantries, and baby pantries. In addition they provide weekly dinners, including the one we help at in the Congregational Church, medical equipment loan service and help with clothing, housewares and furniture.
They also provide ministries that help coordinate transportation, fuel, utility assistance, emergency housing and have a resource center that provides emotional support to clients, along with seasonal programs.
We Care can now provide support to Hispanic and migrant families with the addition of Spanish speaking staff and a ministry to support this important population.
They have recently expanded services to include delivery of goods and a job and volunteer listing service.
Erika will be meeting with school officials this week to redevelop the programs youth development services. In the past this has provided help to students looking to earn service hours and to show students the many opportunities available to provide service to their community now and in the future.
The We Care budget totals $138,000 a year and provides 1.5 million dollars' worth of services to our community. They receive most of their support from individual donations but organizations also donate, including the $44,000 our club donates each year.
We Care also is involved in other fund raisers, including this summer's Blueberry Festival 5K Run and the Anchor Auction program.
President Roberts thanked Erika for her important and interesting update and is mailing her our speaker's gift of a gift certificate to Taste.
Bill adjourned the meeting with the Four Way Test at 7:50 AM
NEXT WEEK: Tom Noverr will introduce Dr. Jeffrey Patton, Director of Integrated Services of Kalamazoo who will speak about the impact of COVID.


Editarian: Dene Hadden