Those Rotary Wheel SPOKES just keep on rolling...
VOL. LXXVI NO. 35 March 17, 2020
Happy St. Patrick's Day...and the bars are closed!
We certainly missed getting together this morning! We were looking forward to being greeted by Melinda Gruber and Rosalie Plechaty, enjoying the usual camaraderie among members and soon-to-be members, as well as hearing Steve Larsen's presentation, a "Senior Housing Update".
The challenging times in which we live has prevented our Rotary meetings from happening for, we hope, no longer than the few more weeks that have been planned.
However, as you well know, things are very unpredictable, and we'll ROLL with whatever is dictated.
Many thanks to President Odland for taking a pro-active stance and cancelling our meetings, prior to other announcements from District 6360 and the Governor.
SPOKES will continue on at least a weekly basis. We invite your submissions. Send to artayers16@aol.com
SHARED NEWS:
I received the following email from Nick Tuit, on March 15th:
"Hello, from Spain,
We plan to leave Spain Wednesday and were successful changing our flights. That being said, we will have to see what it takes to get to the airport and then through Malaga, Amsterdam, Detroit and GR. We will be checked at several locations and expect to be quarantined in GR for several weeks. The lockdown has hit our community. This morning we walked down the hill, and intended to walk the promenade, but a local said he was stopped by the police, so we headed back up the hill. We have food to make it to Wednesday. Our rental was until March 28th, so we have a place to stay if need be. Prayers are requested that all goes well.
Nick
FROM PAUL HEMMETER
"Some people are not shaking hands due to the coronavirus; Others are not shaking hands due to everyone running out oftoilet paper."
A CONTRIBUTION FROM BOB COPPING
"What do we learn from cows, buffaloes, and elephants?
It's impossible to reduce weight by eating green grass and salads and walking!"
THREE FROM ART AYERS
"And the people stayed home...They read books, listened, rested, exercised, created art, played games, learned new ways of being, and were still.
Some meditated, some prayed, some danced, and some met their shadows. The people began to think differently, and the people healed. In the absence of people living in ignorant, dangerous, mindless, and heartless ways, the earth began to heal.
When the danger passed, and the people joined together again, they grieved their losses, made new choices, dreamed new images, and created new ways to live and heal the earth- as they had been healed." -attributed to Kitty O'Meara.
"There was a farmer who grew excellent quality wheat, and every season, he won the award for the best grown in his county. One year, a reporter from the local newspaper interviewed the farmer and learned that each Spring the man shared his seed with his neighbors, so that they, too, could plant it in their fields.
'How can you afford to share your best wheat seed with your neighbors, when they are entering their crops in the competition with yours?' the reporter asked.
'Why that's very simple,' the farmer explained. 'The wind picks up pollen from the developing wheat and carries it from field to field. If my neighbors grow inferior wheat, cross-pollination will steadily degrade the quality of all the wheat, including mine. If I am to grow good wheat, I must help my neighbors grow good wheat.'
The reporter realized how the farmer's explanation also applied to people's lives in the most fundamental way. Those who want to live meaningfully and well must help enrich the lives of others-for the value of a life is measured by the lives it touches.
Those who choose to be happy must help others find happiness, for the welfare of each is bound up with the welfare of all." --P.G.Gregory
"Seeing all the jokes about toilet paper shortages, I don't find them very Charmin'.
It's Scott to stop soon! This is Northern to laugh about!
Is this some kind of vast 2-ply conspiracy? Very hard to absorb it all...
I mean, it wipes me out!!
I guess I will just roll along with everyone else.
I have to go now...I'm feeling flushed."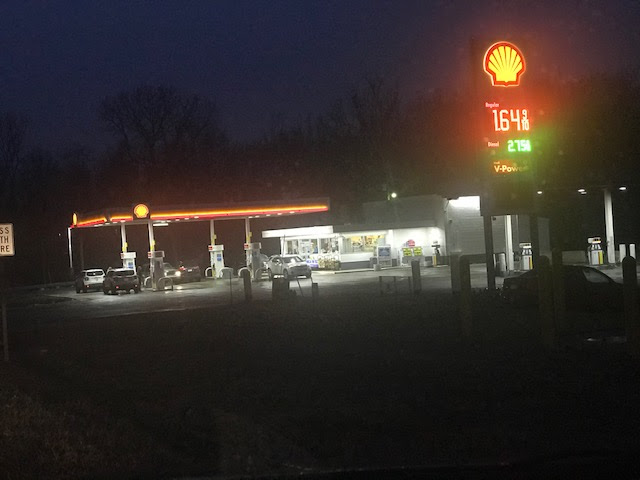 ON THE ROAD WITH TOM RUESINK
A few fun facts...
Picture location-this was taken to show the lowest gas price observed during the recently completed 1300 mile trip.

Staying in our hotel in Atlanta were 45 guys repairing the railroad.

Traveling north of Indianapolis, we crossed the Wabash River.
Here's the question:
Name the 2 songs that are in our Rotary collection that relate to facts 2 and 3.
Those who don't know the answer, I will be imposing fines and sending Stuart out to collect!
Answer will be in next edition of SPOKES.
For those who contributed to today's edition, thank you very much! I'll look forward to receiving more in the next few weeks..,
PRAYERS FOR MAX VAN ZOEREN
Please keep Max in your prayers as he recovers from triple bypass surgery.
Here's his address if you want to send him a card:
7205 Point Betsie
South Haven MI 49090
BENEDICTION:
Heavenly Father,
In these challenging times, we would ask that you keep our Rotarian brothers and sisters, our families, all whom we hold dear, as well as those within our global community, in your loving care.
We offer our sincere thanks to those within the medical field who have assisted so many, and those who continue to spend countless hours in exhaustive research. Be with them and guide them in their efforts to help.
We offer prayers for Dr. Marty Graber and his mission, for Nick and Nancy Tuit, and also would pray that healing continues for Tom Fleming, Bob Stickland, and Jerry Portman.
In your name, we pray... Amen.
WE CONCLUDE BY ENCOURAGING YOU TO SAY THE FOUR-WAY PLEDGE
* Is it the TRUTH?
* Is it FAIR to all concerned?
* Will it build GOODWILL and BETTER FRIENDSHIPS?
* Will it be BENEFICIAL to all concerned?
Til next week,
Art Ayers
Seasonal Editarian